Snow Making Services — "We Blow Snow!"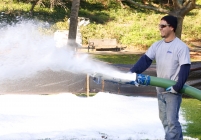 Who said it doesn't snow on the California Coast?
This holiday season, create snow-filled memories that will last forever! Let Glacier Ice Company build a "winter wonderland" snow scene in your front yard or any event location - complete with a sledding ramp and snowball fights! We blow snow for residential parties as well as community, corporate and church events. You pick the spot, gather the kids (of all ages) and pour the hot chocolate. We'll make it "snow!"
The Snow Making Process
Glacier Ice will bring a truckload of ice and our snow blower. The blower pulverizes our cubed ice into fluffy fresh snow. Our crew can apply snow onto rooftops, backyards, sledding ramps and almost anywhere you want to have your snow event.
Atascadero Winter Wonderland

Post Naval Monterey

Sea Pines Golf Resort
Watch a video on the snow-making process.
Customer Testimonial:
"I cannot tell you how wonderful your crew were! Matt was extremely helpful and reassuring. We have nothing but positive things to say about this experience. There were so many children there that I had never seen snow and this event was something they will never forget."
- Tracy Police Department
Additional Details:
Coverage: 1 Ton of snow covers 8' x 12' x 12'. (Approximately 1 standard parking space.)
Minimum delivery = 5 Tons
Maximum delivery = Unlimited
Contact us to request a Winter Wonderland quote, and make your holiday dreams come true.